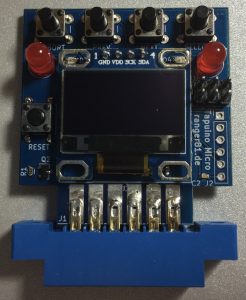 The Tapuino Micro module is a digital datassette alternative for the Commodore 64, Commodore 16* or Commodore VIC-20. These modules can be used to play back digital cassette recordings (TAP files) from microSD cards and to save programs from the Commodore to microSD cards. Tapuino Micro is simply connected to the computer instead of the datassette and is also supplied with power from it. On the integrated OLED display, the available functions can be conveniently accessed via a menu structure. Tapuino Micro is already set up and ready for immediate use!
The features in detail
Playing TAP files (datassette images)
Recording of programs on microSD card
Integrated OLED display for navigation and status indication
Status indicators by additional LEDs
No extra power supply necessary
Compact design
Improved hardware and latest board revision
Future-proof through firmware updates
Expandable for hobbyists: Convert cassettes to TAP files and vice versa
Comprehensive operating instructions for all functions
The special thing about Tapuino Micro
Compared to the original "Tapuino" project, the hardware of the Tapuino Micro has been further developed. All data lines to and from the computer are secured and the module size has been reduced. In addition, the Tapuino Micro offers two programming ports for experienced hobbyists to update the firmware themselves.
Comprehensive user manual
There is an always up-to-date and comprehensive user documentation is available. All the functions mentioned are explained in detail and clearly understandable in the operating instructions. In addition, the manual provides an outlook and expansion options for hobbyists and interested persons.
Further questions?
If you have further questions, please feel free to contact me via the contact form.
* Adapter required for Commodore 16
---
Das Tapuino Micro Modul ist eine digitale Datassetten-Alternative für den Commodore 64, Commodore 16* oder Commodore VIC-20. Mit Hilfe diese Moduls können digitale Kassetten-Aufzeichnungen (TAP-Dateien) von microSD-Karte abgespielt und Programme vom Commodore auf microSD-Karte abgespeichert werden. Tapuino Micro wird dabei einfach anstatt der Datassette an den Computer angeschlossen und darüber auch mit Strom versorgt. Auf dem integrierten OLED-Display lassen sich über eine Menüstruktur bequem die verfügbaren Funktionen abrufen. Tapuino Micro ist bereits fertig aufgebaut und ist damit sofort einsatzbereit!
Die Features im Detail
Abspielen von TAP-Dateien (Datassetten-Images)
Aufzeichnung von Programmen auf microSD-Karte
Integriertes OLED-Display zur Navigation und Statusanzeige
Statusindikatoren durch zusätzliche LEDs
Keine extra Stromversorgung nötig
Kompakte Bauform
Verbesserte Hardware und neueste Platinen-Revision
Zukunftsfähig durch Firmware-Updates
Erweiterungsfähig für Bastler: Konvertieren von Kassetten in TAP-Dateien und umgekehrt
Umfassende Bedienungsanleitung für sämtliche Funktionen
Das Besondere an Tapuino Micro
Gegenüber dem ursprünglichen "Tapuino" Projekt wurde die Hardware des Tapuino Micro weiterentwickelt. Sämtliche Datenleitungen von und zum Computer sind abgesichert und die Modulgröße wurde verkleinert. Zusätzlich bietet der Tapuino Micro für erfahrene Bastler zwei Programmier-Anschlüsse, um die Firmware selbst zu aktualisieren.
Umfassendes Benutzerhandbuch
Eine stets aktuelle und umfassende Benutzerdokumenatation ist verfügbar. Alle genannten Funktionen sind in der Bedienungsanleitung ausführlich und verständlich erklärt. Zusätzlich gibt das Handbuch einen Ausblick und Erweiterungsmöglichkeiten für Bastler und Interessierte.
Weitere Fragen?
Bei weiteren Fragen kannst du dich gerne über mein Kontakt-Formular bei mir melden.
* Adapter benötigt für Commodore 16
---
---