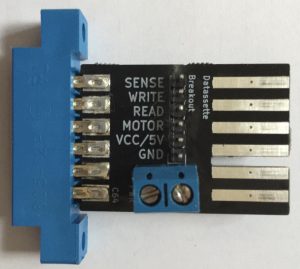 The Datassette Passthrough module is first of all a very simple Passthrough adapter for the Commodore Datassette Port to protect it from wear and tear. Further this adapter offers useful additional features for hobbyists! Connected to the datassette port it of course provides a datassette port again, which now however the actual Commodore board already and peripherals will be plugged and unplugged in the future at this adapter. In contrast to a simple pass-through adapter, this model offers a pin header at which all datassette signals can be picked up or initiated. As a further extra there is a screw terminal for easy power supply of e.g. other hardware extensions (e.g. SD2IEC).
Overview of the Datassette-Passthrough Adapter functions
Protects the actual datassette port of the Commodore computer
Provides datassette port signals via 2.54mm pin header
Has screw terminals for easy power supply of additional hardware (e.g. SD2IEC).
Comprehensive operating instructions
Especially interesting for makers
The data signals from and to the datassette can be easily picked up or initiated via the pin header. The Passthough adapter enables parallel use of the datassette port for multiple devices. Further hardware extensions such as an SD2IEC module can be conveniently supplied with 5V via the screw terminals.
Comprehensive user manual
Although the Datassette Passthrough Adapter is intuitive to use, it also provides access to up-to-date and comprehensive user documentation. All the functions mentioned are explained in detail and comprehensibly in the operating instructions.
Any further questions?
If you have further questions, please feel free to contact me via my contact form.
---
Das Datassette Passthrough Modul ist zunächst einmal ein ganz einfacher Passthrough-Adapter für den Commodore Datassette Port um diesen vor Abnutzung zu schützen. Weiter bietet dieser Adapter aber nützlichen Zusatz-Features für Bastler! Angeschlossen an den Datassetten-Port stellt er selbstverständlich wieder einen Datassetten-Port zur Verfügung, welcher jetzt aber die eigentliche Commodore-Platine schont und Peripherie künftig an diesem Adapter ein-und ausgesteckt wird. Entgegen einem simplen Passthrough-Adapter bietet dieses Modell eine Stiftleiste, an dem sämtliche Datassetten-Signale abgegriffen oder eingeleitet werden können. Als weiteres Extra gibt es ein Schraub-Terminal zur einfachen Stromversorgung von z.B. sonstigen Hardware-Erweiterungen (z.B. SD2IEC).
Funktionen des Datassette-Passthrough Adapters in der Übersicht
Schützt den eigentlichen Datassetten-Anschluss des Commodore Computers
Stellt Signale des Datassetten-Ports über 2.54mm Stiftleiste bereit
Besitzt Schraub-Terminals zur einfachen Stromversorgung von Zusatzhardware (z.B. SD2IEC).
Umfassende Bedienungsanleitung
Besonders interessant für Bastler
Durch die Stiftleiste können die Datensignale von und zur Datassette einfach abgegriffen oder eingeleitet werden. So ermöglicht der Passthough-Adapter die parallele Nutzung des Datassetten-Ports für mehrere Geräte. Weitere Hardware-Erweiterungen wie z.B. ein SD2IEC-Modul können über die Schraub-Terminals bequem mit 5V versorgt werden.
Umfassendes Benutzerhandbuch
Auch wenn der Datassette Passthrough Adapter intuitiv zu bedienen ist, so gibt es zum Adapter auch den Zugang zu einer stets aktuellen und umfassenden Benutzerdokumenatation. Alle genannten Funktionen sind in der Bedienungsanleitung ausführlich und verständlich erklärt.
Weitere Fragen?
Bei weiteren Fragen kannst du dich gerne über mein Kontakt-Formular bei mir melden.
---
---