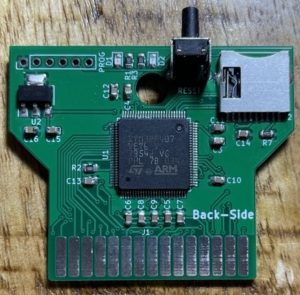 The Atari XL/XE Uno-A8 cartridge offers an easy way to play ROM images for the Atari XL and XE series from SD card. ROMs with up to 128kb in different file formats are supported. Several LEDs show the current state of the cartridge at any time. To select the appropriate game, the module offers a menu when the Atari is started. The menu can be navigated directly with the keyboard. For easier game sorting, folders on the SD card are supported! A reset button returns the cartridge to its original state at any time and the game menu can be opened again.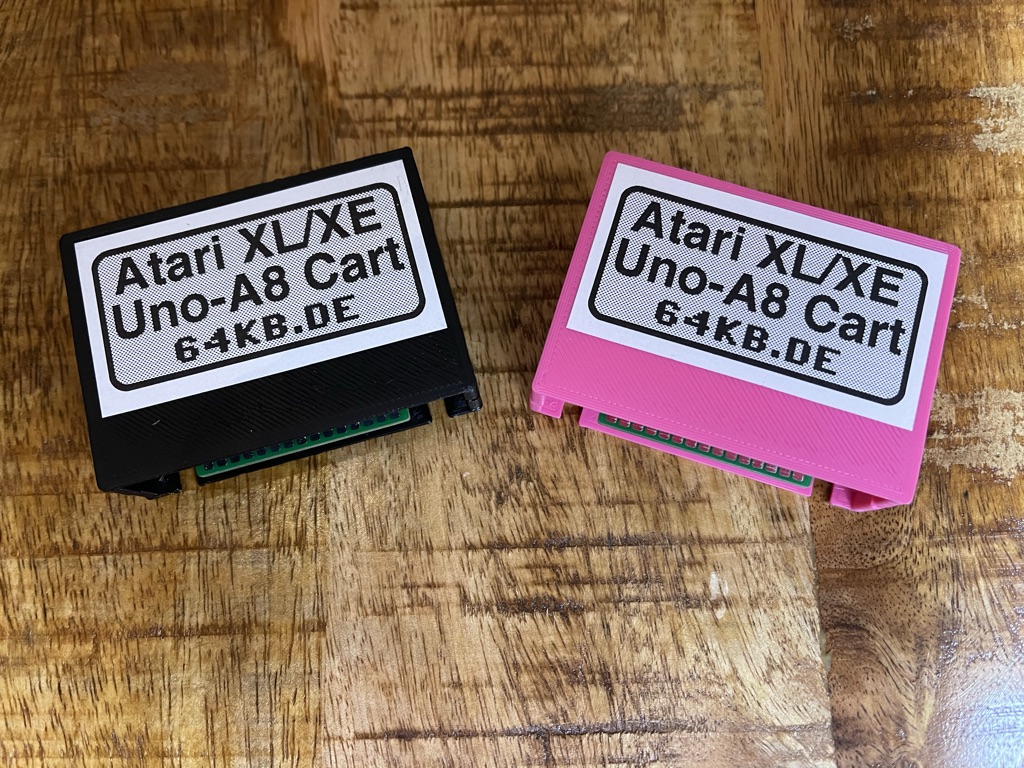 Features of the Atari XL/XE Uno-A8 Cart
Play ROM files directly from microSD card on the Atari XL/XE series
Works with Atari 600XL, 800XL, 1200XL, 65XE, 130XE, XEGS
ROM files up to 128kb are supported
Several LEDs show the current state of the cartridge
Reset button for easy restart of the Uno-A8 Cartrdige
Comfortable menu for game selection (folders are supported)
.ROM, .CAR, .BIN and .XEX images are supported
Simple support for ATR files (Floppy Disk Images)
Own OS ROM usable, standard Altirra open source Atari OS already integrated in the firmware
Includes latest firmware version
The special thing about the Atari XL/XE Uno-A8 Cart
The Uno-A8 Cart offers a fast and above all uncomplicated alternative to floppy disk drives and cassette drives to run programs and games on the Atari XL/XE series. The firmware can be updated for advanced users. Also the selection of the desired game is very easy due to the integrated menu and the folder structure.
Comprehensive user manual
There is an always up-to-date and comprehensive user documentation is available. All of the functions mentioned are explained in detail and in an understandable way in the user manual. Additionally, the manual provides links to further information.
Further questions?
If you have any further questions, feel free to contact me via my contact form.
---
Die Atari XL/XE Uno-A8 Cartridge bietet die einfache Möglichkeit ROM-Images für die Atari XL und XE-Serie von SD-Karte abzuspielen. Unterstützt werden dabei ROMs mit bis zu 128kb in verschiedenen Dateiformaten. Mehrere LEDs zeigen jederzeit den aktuellen Zustand der Cartridge an. Zur Auswahl des passenden Spiels bietet das Modul ein Menü, wenn der Atari gestartet wird. Im Menü kann direkt mit der Tastatur navigiert werden. Zur einfacheren Spiele-Sortierung werden Ordner auf der SD-Karte unterstützt! Ein Reset-Knopf versetzt die Cartridge jederzeit wieder in den Ursprungszustand und das Spiele-Menü lässt sich erneut öffnen.
Funktionen der Atari XL/XE Uno-A8 Cart
ROM-Dateien direkt von microSD-Karte auf der Atari XL/XE-Serie abspielen
Funktioniert mit Atari 600XL, 800XL, 1200XL, 65XE, 130XE, XEGS
ROM-Dateien bis zu 128kb werden unterstützt
Mehrere LEDs zeigen den aktuellen Zustand der Cartrdige
Reset-Knopf zum einfachen Neustart der Uno-A8 Cartrdige
Komfortables Menü zur Spieleauswahl (Ordner werden unterstützt)
.ROM, .CAR, .BIN und .XEX Images werden unterstüzt
Einfache Unterstützung für ATR-Dateien (Floppy Disk Images)
Eigenes OS-ROM nutzbar, Standard Altirra Open-Source Atari OS bereits in der Firmware integriert
Enthält neueste Firmware-Version
Das besondere an der Atari XL/XE Uno-A8 Cart
Die Uno-A8 Cart bietet eine schnelle und vor allem unkomplizierte Alternative zu Diskettenlaufwerken und Kassettenlaufwerken um Programm und Spiele auf der Atari XL/XE-Serie auszuführen. Die Firmware kann für fortgeschrittene Anwender aktualisiert werden. Auch die Auswahl des gewünschten Spiels gestaltet sich besonders einfach durch das integrierte Menü und die Ordnerstruktur.
Umfassendes Benutzerhandbuch
Eine stets aktuelle und umfassende Benutzerdokumenatation ist verfügbar. Alle genannten Funktionen sind in der Bedienungsanleitung ausführlich und verständlich erklärt. Zusätzlich bietet das Handbuch Links zu weiterführenden Informationen.
Weitere Fragen?
Bei weiteren Fragen kannst du dich gerne über mein Kontakt-Formular bei mir melden.
---
---