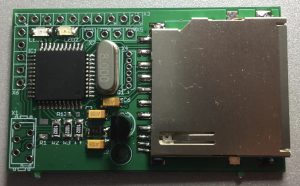 Zur deutschen Beschreibung
What is SD2IEC?
SD2IEC is a SD card reader for Commodore computers such as the C64 or C128, which is connected to the computer instead of the floppy disk drive and thus allows access to many thousands of floppy disks from an SD card! Not only that, it is also much faster and more reliable than the "classic" floppy disk. SD2IEC enables direct reading and writing of .PRG files, but also floppy disk images like D64, D71, D81, M2I,… can be read without any problems. The SD card can be easily inserted into the computer to copy games, programs, etc. to it.
What is still to be done? Is that a kit?
This is a "mini kit". The complete board is already assembled as shown in the picture, software is installed and the board is ready for use. It was "hand soldered" and of course tested on my C64 – it is 100% functional. What still has to be done is to connect the plugs and cables to the board and the C64. For this you need a soldering iron – but everything is very simple. There is a detailed documentation on the structure and use of SD2IEC as a PDF for download – so don't worry!
The board itself
It is an improved version of the original board of "Shadowolf". It is 100% compatible to the official SD2IEC firmware. The board is designed for external operation, but can also be installed in the C64 and soldered directly in the housing of the C64. In addition, the board offers connection options for buttons for fast diskette change, additional external LEDs, setting options for the device ID and is future-proof thanks to further (currently unused) connection options. For the experts among you, the board also offers an ICSP interface with which the microcontroller can be reprogrammed.
That sounds complicated! Is that easy?
It's not easy to get started, but I've written a documentation for using the SD2IEC basic functions and a great collection of links, which I'll include with your purchase as a PDF. This will certainly make getting started much easier!
Firmware updates
No problem! The SD2IEC firmware can be easily updated via the SD card – no complicated programming required! Everything described in the documentation!
What is included?
SD2IEC board (completely assembled)
6-pin DIN serial connector
Datasette port adapter (for supplying power to SD2IEC from the C64)
2x buttons and cables
Documentation on building and usage (Currently German only)
You want to solder yourself?
You want the complete board as a kit? Write me a message, I'm sure something can be done!
Any other questions?
Feel free to contact me!
---
Was ist SD2IEC?
SD2IEC ist quasi ein SD-Kartenleser für Commodore-Computer wie z.B. den C64 oder C128. Die Platine wird anstelle dem Diskettenlaufwerk an den Computer angeschlossen und ermöglicht somit den Zugriff auf viele tausend Disketten bequem von SD-Karte aus! Nicht nur das, es ist auch wesentlich schneller und zuverlässiger als die "klassische" Diskette. SD2IEC ermöglicht es direkt .PRG Dateien zu lesen und auch zu schreiben, aber auch Disketten-Images wie D64, D71, D81, M2I,… können damit problemlos gelesen werden. Die SD-Karte lässt sich auf einfach in den Computer stecken, um die Spiele, Programme, etc. darauf zu kopieren.
Was ist noch zu tun? Ist das ein Bausatz?
Das ist ein "Mini-Bausatz". Die komplette Platine ist schon fertig aufgebaut wie auf dem Bild zu sehen, Software ist aufgespielt und die Platine ist einsatzbereit. Sie wurde "handgelötet" und selbstverständlich auch an meinem C64 getestet – sie ist somit 100% funktionsfähig. Was noch gemacht werden muss sind die Stecker und Kabel mit der Platine und dem C64 zu verbinden. Hierfür brauchst du einen Lötkolben – ist aber alles sehr einfach. Es gibt eine ausführliche Dokumentation zum Aufbau und der Verwendung von SD2IEC als PDF zum Download mit dazu – also keine Angst!
Zur Platine selbst
Es handelt sich um eine verbesserte Version der Original Platine von "Shadowolf". Sie ist damit 100% kompatibel zur offiziellen SD2IEC-Firmware. Die Platine ist für den externen Betrieb konzipiert, kann aber auch in den C64 eingebaut werden und direkt im Gehäuse des C64 verlötet werden. Zusätzlich bietet die Platine Anschlussmöglichkeiten für Tasten zum schnellen Diskettenwechsel, weitere externe LEDs, Einstellmöglichkeiten für die Geräte-ID und ist zukunftssicher Dank weiterer (derzeit ungenutzter) Anschlussmöglichkeiten. Für die Experten unter euch bietet die Platine auch eine ICSP-Schnittstelle, mit der sich der Mikrocontroller umprogrammieren lässt.
Das klingt kompliziert! Ist das einfach?
Der Einstieg ist nicht ganz einfach, aber ich habe eine Dokumentation zur Verwendung der SD2IEC Grundfunktionen geschrieben und eine tolle Linksammlung, die ich dir beim Kauf als PDF mit dazu lege. Damit ist der Einstieg sicherlich wesentlich einfacher!
Firmware-Updates
Kein Problem! Die SD2IEC-Firmware lässt sich einfach über die SD-Karte aktualisieren – keine komplizierten Programmierungen nötig! Alles in der Dokumentation beschrieben!
Was ist alles im Lieferumfang?
SD2IEC Platine (fertig aufgebaut)
6-poliger serieller DIN-Stecker
Datasette-Port Adapter (zur einfachen Stromversorgung der Platine vom C64 aus)
2x Taster und Kabel
Dokumentation zum Aufbau und der Verwendung (Derzeit nur in Deutsch)
Du willst selber löten?
Wer seinen C64 liebt, der bastelt selbst! Du möchtest die komplette Platine als Bausatz? Schreibe mir eine Nachricht, da lässt sich sicher etwas machen!
Weitere Fragen?
---
---